About Obee
Obee is a reservation, table and waiting listing management system for restaurants. Founded in Melbourne 2010, Obee has over 400 restaurants, bars and wineries as its customers. The platform counts many of Australia's well-known venues such as Attica, Saint Peter, Arbory, The Sporting Globe and Domaine Chandon as their customers.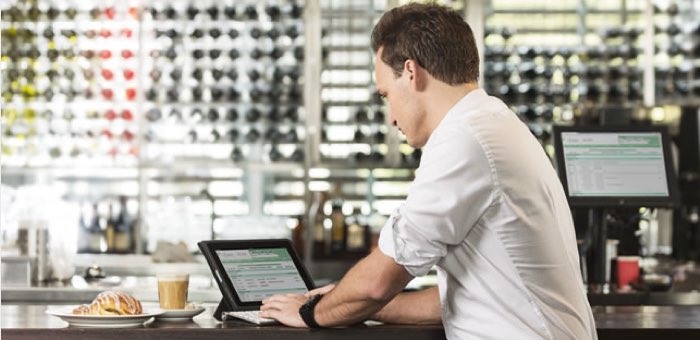 Their payments challenges
Obee's customers were asking for a way to secure table bookings by storing credit card details and taking payments from guests making reservations online. Their goal was to minimise the financial loss from booking no-shows. The restaurant would either charge the guest's card when booking, or store the guest's card to charge later in line with their booking policy.
"We went out looking for a flexible and easy way to implement payment capabilities into Obee. We didn't want to become a payment provider ourselves. At the same time, we wanted the experience for our customers to be first-class" explained Owen Parry, Obee's Founder and CEO.
The solution
Pin Payments help Obee overcome their payments challenges, through its modern payments API and ability to onboard Obee customers onto Pin Payments quickly.
When a restaurant using Obee wants to start using the features that require integrated payments, Obee sends them to the branded Pin Payments sign-up page at https://pinpayments.com/get-started/obee. Pin Payments takes care of on-boarding the restaurant with their own payments account and assists with connecting it to their Obee account.
Know Your Customer (KYC) & Anti Money Laundering (AML)
When accepting payments, organisations are obligated to identify and verify the beneficial owners or principals of the entity.
This process can be time-consuming and expensive for most organisations. Pin Payments takes care of these requirements as part of the onboarding process.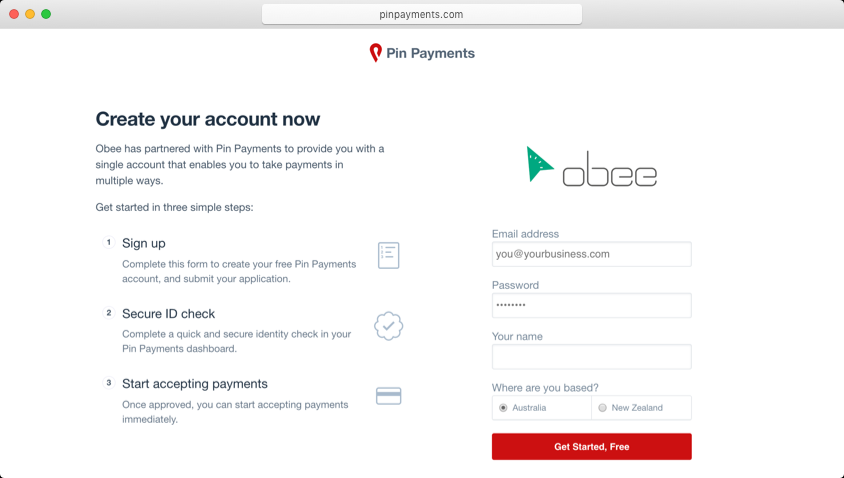 Now that Obee's customer has their Pin Payments account activated, they're able to begin accepting card payments. Through an integration with the Pin Payments API, their checkout page is white-labelled as Obee's own.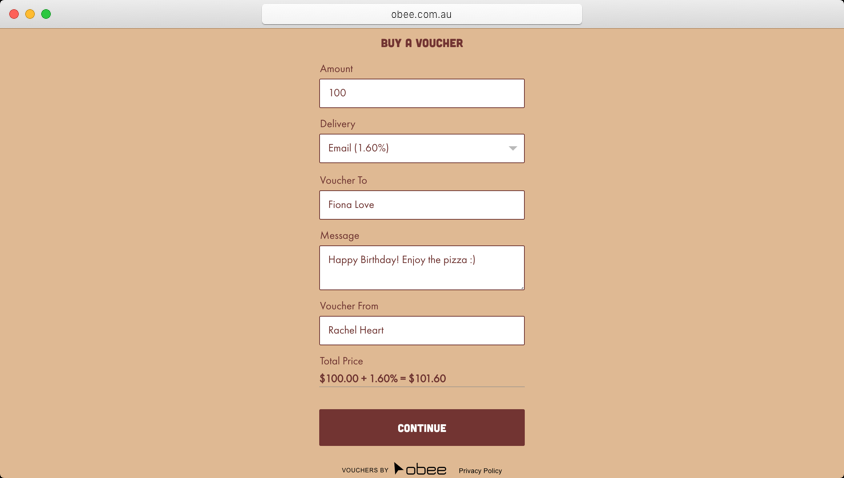 When a customer makes a reservation on the restaurant's website, Obee's integration with the Customer API gives the restaurant the option to store the customer's email and payment card details securely in their Pin Payments account. This allows the restaurant to charge the customers' card at a later date for a purchase or a no-show penalty, without needing to ask for the card details again.
The result
Partnering with Pin Payments meant Obee has been able to delight their customers by building payment features tailored to their customers' needs. With minimal up-front development work and the ability to monetise payments that process through Obee's platform, it's helped cement Obee as one of the leading providers in their space.
"We have been using Pin Payments for over five years and are extremely satisfied with the platform for its ease of use and reliability. We also love their amazing customer support!"