Product Guides
Customers
Pin Payments helps you store customers' card details securely on file, enabling you to process future or recurring payments.
In this guide
Add a Customer
Navigate to the Customers area of your dashboard.
Click "New Customer" at the top right of the screen.
Provide an email address for your customer, which will be used to email a receipt following any charge to their card.
Provide details for any of the optional fields you'd like to use to describe your customer.
Complete the remaining fields, which represent the billing details from the customer's card.
Once all fields are filled in, click "Add Customer".
Your customer's payment card details are now securely stored in your Pin Payments account.
Note: To protect your customers, their full card number is never exposed after being stored. Only the last four digits are visible from the dashboard, or returned via the API.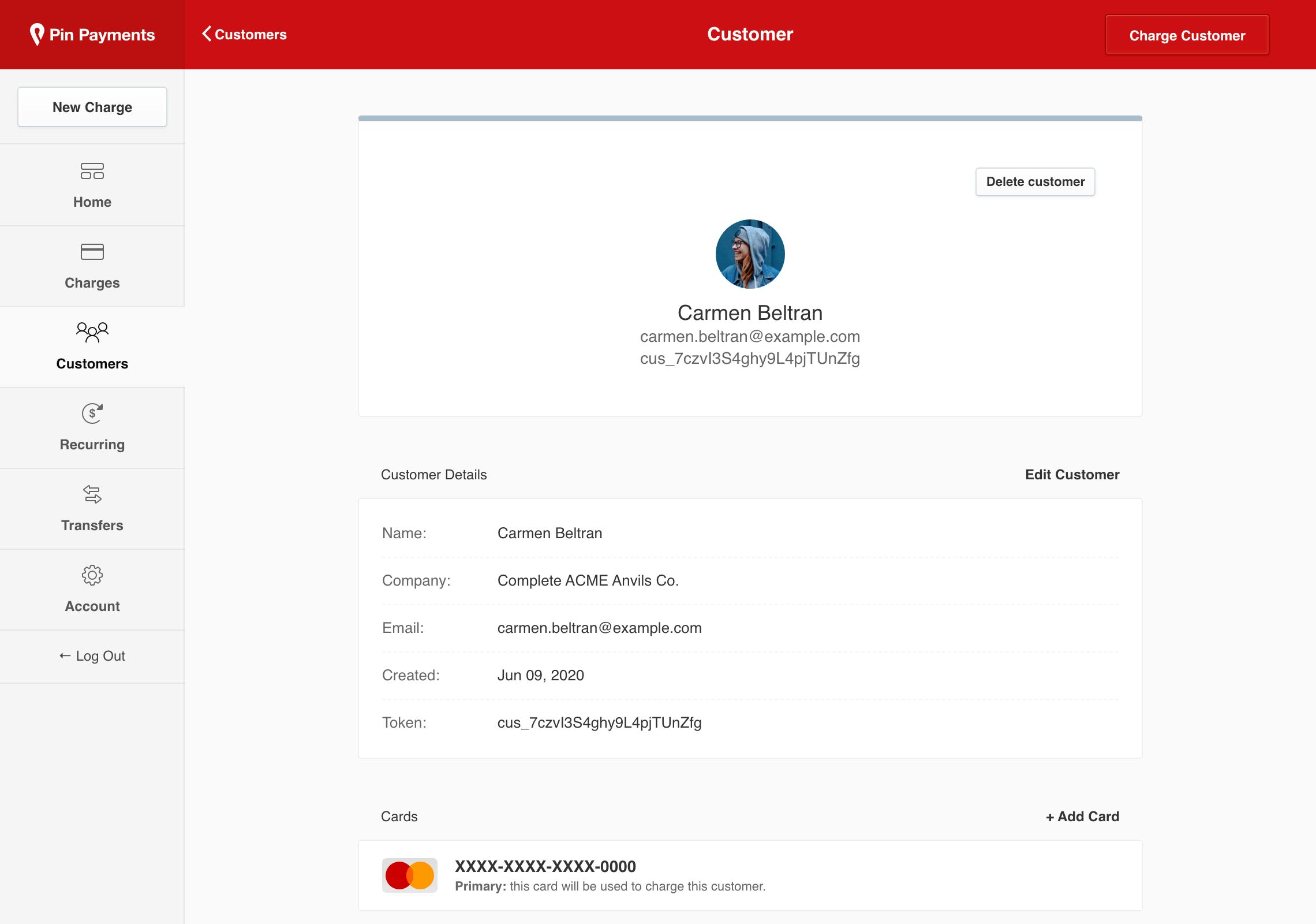 Charge a Customer
First, select the customer you want to charge from the Customers area of your dashboard.
Create a single charge
Click "Charge Customer" at the top right of the screen.
Enter the amount you want to charge along with a description of what it's for.
Click "Charge Customer".
Subscribe customer to a plan
Scroll down the page and click "Add Subscription".
Select the plan you wish to subscribe the customer to, then click "Subscribe Customer".
Learn how to create plans in the Recurring Payments guide.
Update a customer's card
Where a customer needs to update the card details you have on file, click the "Add Card" link when viewing a customer from your dashboard.
Customers can have more than one card stored, therefore if you want this new card to be the customer's default when processing charges, click "Make Default" next to the card details. You can also delete cards associated with a customer if they are no longer required.