Pin Payments is proud to partner with One Roof and celebrate women business leaders by presenting the unmissable virtual event, Unstoppable Female Forces: The Future of Online Business.
The online business space is changing, and women-led businesses are a force to be reckoned with. Over the past two decades, the number of women business operators increased by 46%1. Excitingly, there has been an upwards trend in the proportion of female business owners/managers over the last 20 years. Women now represent 35.4% of business owners/managers2.
Through this FREE virtual event, we spotlight women who are paving the way in building fast-growing and scalable online businesses. If you're an aspiring entrepreneur or looking to jump-start your business to the next level this event is not to be missed.
You will hear from Collabosaurus Founder Jess Ruhfus, Kester Black Founder Anna Ross, Fig & Bloom Founder Kellie Brown and Finders Keepers Co-Founder Sarah Thornton.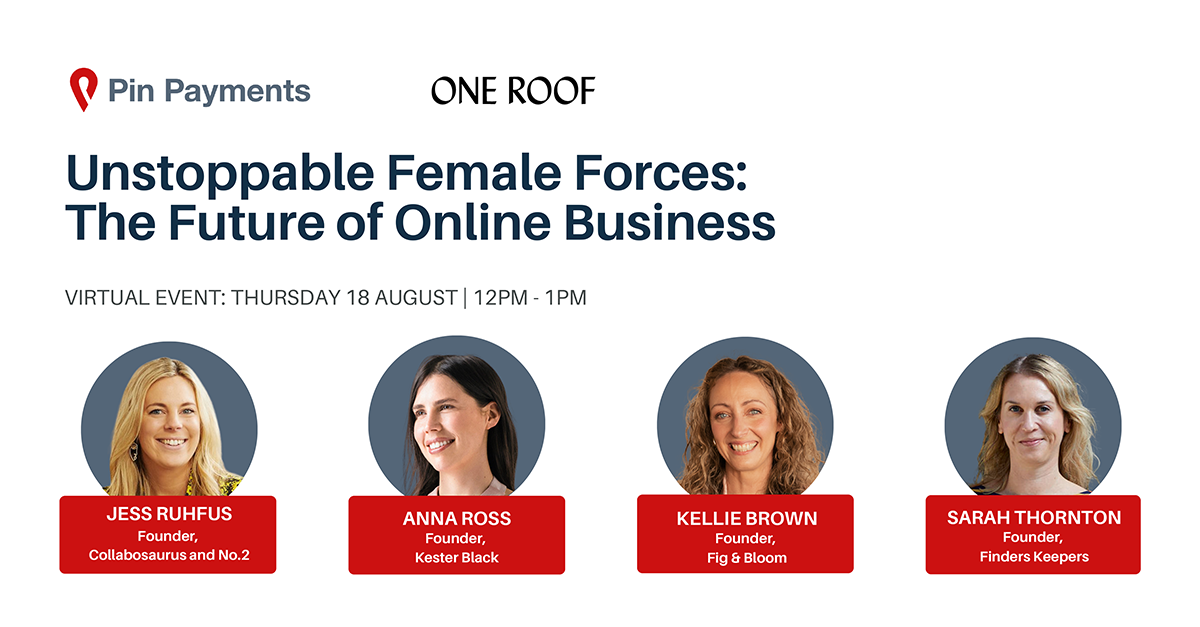 Innovative tips to improve your business
Our speakers will talk about:
Harnessing the potential of going online
Greatest successes and failures to learn from
Successful marketing techniques you can use
How they got through the pandemic and thrive
Insights into launching and scaling ecommerce and online businesses
Join our unforgettable event on Thursday, 18 August at 12pm AEST by booking your free ticket here.
About the Speakers
Jess Ruhfus, Collabosaurus Founder (Moderator)
Jess Ruhfus is the Founder of Collabosaurus, a marketing platform that match-makes brands for clever collaborations & partnerships. With a background in fashion publicity and marketing education, Jess was frustrated sourcing cool brand partnerships in events, products & social media. So, she launched Collabosaurus in 2015, which has now attracted over 8500+ brands including Estee Lauder, ASOS, Bondi Sands & Marks & Spencer.
Anna Ross is a New Zealand-born creative and entrepreneur who created Kester Black out of her passion for wanting clean and ethical products. Moving from Dunedin to Melbourne in 2009, Anna developed the company from her bedroom with just $50 to her name. A few years, and a patented formula later, today Kester Black is a sustainable business with vegan and cruelty-free products used worldwide. Kester Black is also the first beauty brand in the world to be B-Corp certified.
Kellie Brown is the founder of Fig & Bloom, which specialises in high-end, contemporary floral design, and is now Melbourne's only five-star florist with thousands of loyal customers. After studying fashion design at RMIT University and spending a decade working with well-known brands including Decjuba, Wonderbra, Witchery and Zoo York, Kellie decided to take her fashion knowledge and experience into a completely different industry – floral design.
Sarah Thornton is the Managing Director and Co-founder of the Finders Keepers, where communities come together to shop, explore and discover the very best from designers, makers and entrepreneurs in our country, online via their shop or in person at their markets. From her time in the trenches of building a small business, Sarah now understands how to build (and scale) a brand all the way from the nitty gritty to high-level creative direction.
One Roof is a digital network for ambitious women with a mission to increase the number and success of women leaders and entrepreneurs. They began as a pop-up coworking space with nearly 500 people walking through their doors, to now having onboarded over 1,000 women Australia-wide and possessing a database of 30,000.
Find out more about One Roof and Founder Sheree Rubinstein in our upcoming feature.
References
1 Profile of Women in Business Report.
2 Australian Small Business and Family Enterprise Ombudsman.