The demand for strong end-to-end solutions has always driven the trade industry to explore new technology. It's because of this push for optimisation that tradies around Australia are readily embracing digital job management solutions and the utility they provide.
These needs are what have made the partnership between us at Pin Payments and leading job management software provider AroFlo such a powerful combination. When we first teamed up our combined goal was clear: make it easier for tradies to accept card payments and get paid faster for their hard work.
What is AroFlo?
AroFlo is an Australian owned, developed and run job management software company. First launched in 2001 to a small group of trade businesses, AroFlo has since grown to become a mainstay in trade operations across the country. You'll just as often see the software utilised in small trade businesses as you will in complex enterprise situations. This is part of the software's core goal: to allow businesses of any scope to expand without worrying about outgrowing the systems they use to operate every day.
This pursuit runs alongside AroFlo's other mission:
To help tradies get paid faster and easier.
Ask any tradesperson what their least favourite part of the job is and more often than not they'll tell you it's invoicing clients and chasing up payment for completed work.
Luckily, AroFlo's job management software eliminates the need to manually draw up invoices and request payment for services rendered.
It all starts by streamlining the invoicing process.
Automation is everything when you're trying to get your workflow moving at a quicker pace.
AroFlo's digital job management software slashes admin time by allowing you to set up your charge rates, material costs, overheads, margins and more as you build your own fully customisable invoice templates.
Which then also boosts your efficiency in the field.
If you hate the thought of trekking back to the office to get your finances in order before you clock off for the day, fear not.
AroFlo's field software gives you the ability to create and send invoices on site using the same templates you created back at the office.
Your field staff can even record their labour and materials as they go and feed this data into the finished invoice, so nothing gets missed or forgotten.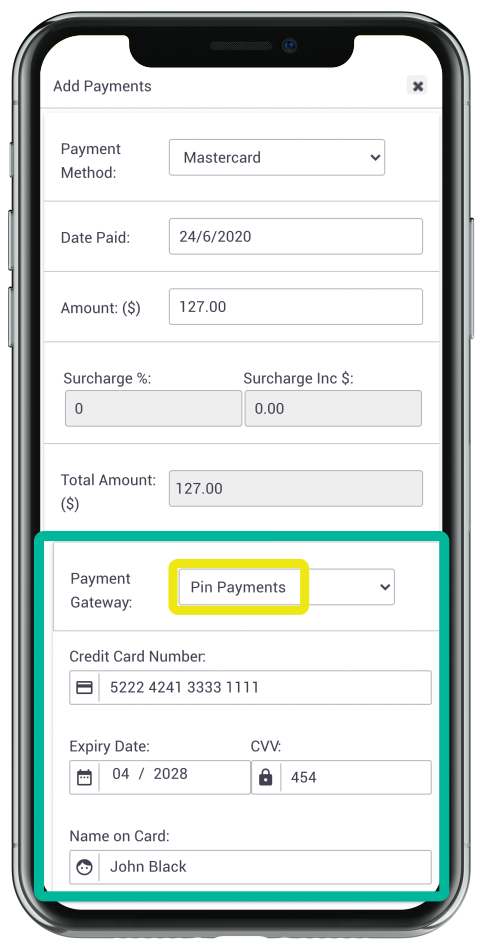 And once that invoice is sent, the real magic happens
This is where Pin Payments takes over as a fast and efficient payment gateway.
There are two main ways that tradies can use Pin Payments alongside AroFlo.
On-site:
A great feature of AroFlo is that it can turn any mobile device into a fast, convenient and secure card processor that merges seamlessly with Pin Payments.
It's a simple three-step process:
Open AroFlo on your mobile device
Create an invoice on the spot
Take payment in-person using the Pin Payments gateway
Quick and easy
---
Back at the office:
Payment after the fact is once again an effortless three-step process using AroFlo's instant connection to Pin Payments.
Open AroFlo
Generate an email PDF invoice
Include a clickable payment link to Pin Payments
Piece of cake.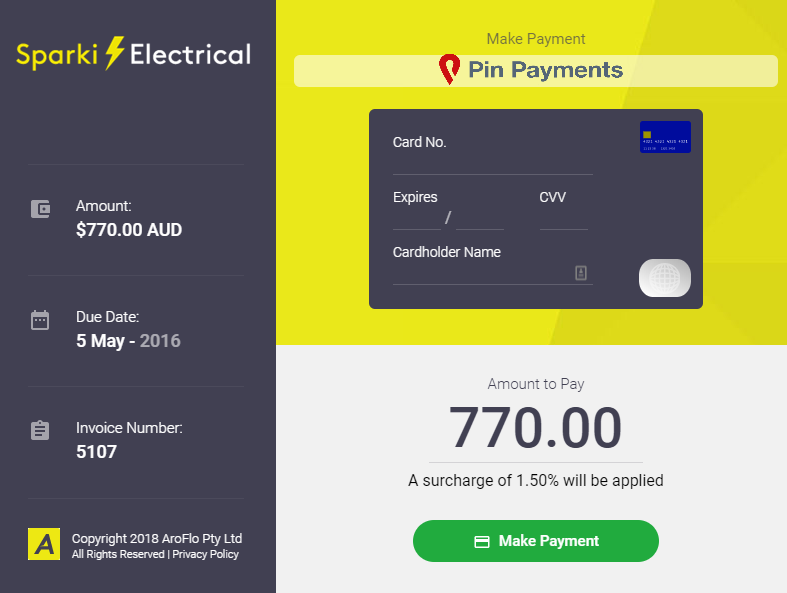 If you're after even more ease of use, you can then send the details of these invoices to your preferred accounting package such as Xero or MYOB.
---
So, ready to go digital?
AroFlo's sales demonstrations are a great way to see how digital job management can revolutionise your trade business. This includes how features such as Pin Payments can speed up everyday payment processing.